Photograph by Tim Barrett
Almost a year ago, I noticed that the Diocese of Cleveland was selling off a great 5,000 square foot 1870s house and a 1920s church, both sited on a parcel that amounted to almost three acres. In April, I wrote about
the church and the house
, with a more detailed
look into the house
in June.
I'd forgotten the matter. Recently, I saw that the property had been sold, in December, for a mere $35,000. This didn't give me much hope - it seemed awfully close to the value of the land less the cost of demolishing the historic house and church. Then I looked deeper, and saw what the new owners, Community Greenhouse Partners, had planned for the site.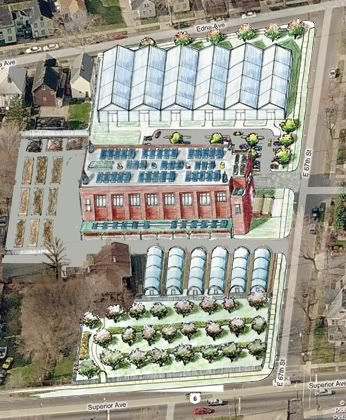 Courtesy of Community Greenhouse Partners
Community Greenhouse Partners
will be converting the church into offices and greenhouse space. Detailed plans may be found
here
.
I spoke with Community Greenhouse Partners executive director Timothy Smith, expressing my concerns about the significance of the house. He said,
"We absolutely plan on keeping the house. Our current plans are to keep it mothballed, as it needs significant work, but we're currently considering two plans, both of which involve having groups move into the space and having them rehab it in exchange for rent -- one is an intentional community of college grads doing community outreach, the other is a permaculture education organization."
Thes plans inspire hope in me, and suggest that there are plenty of unconventional uses for a property like this.